Welcome to UNDP Procurement Training and Certification
---
The United Nations Development Programme offers specialised procurement training and certification to staff from the UN system, non-governmental organisations, international development financing institutions and their borrowers, and governments.

UNDP procurement certification courses are accredited by the Chartered Institute of Purchasing and Supply (CIPS) assuring compliance with high international qualification standards as well as offering participants access to a world-wide community of procurement professionals.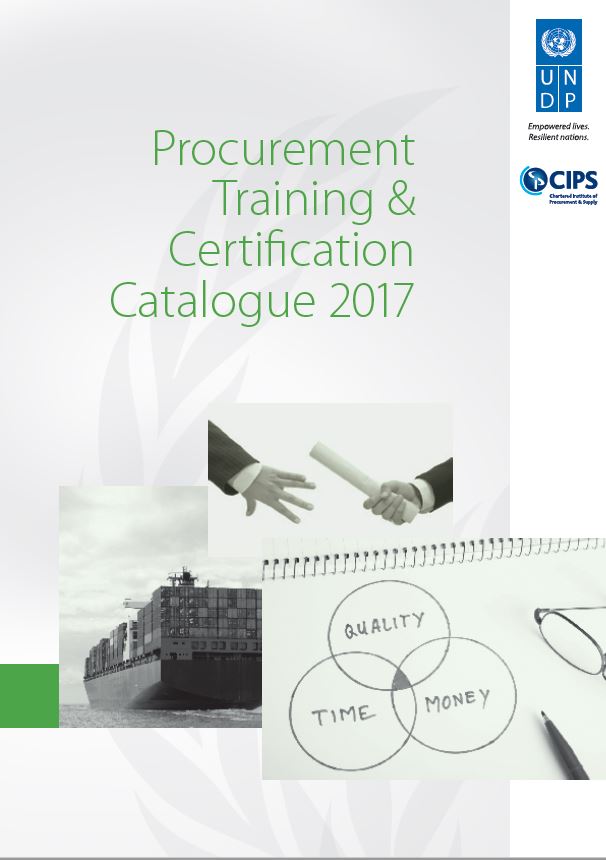 UNDP/CIPS Cooperation on Procurement Certification
---
All UNDP/CIPS qualifications at Introductory (Level 2), Advanced (Level 3), and Diploma (Level 4) levels is tailored to reflect common United Nations and public procurement rules, policies and procedures – hereby offering a unique qualification system customized to UN and public procurement best practices.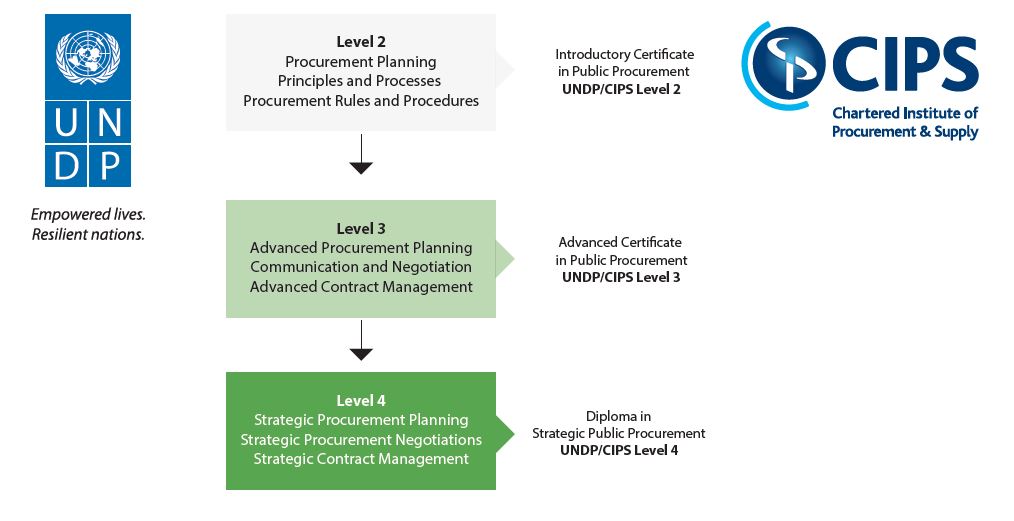 Each certification level provides a tailored set of student training materials, reference and work books, case studies, exercises, and an assessment process leading to a qualification accredited by CIPS, UK. Included in the package for for each level is also a first year student membership of CIPS, providing access to a world-wide community of procurement professionals.

A prerequisite for participation at Level 4 is prior successful completion of UNDP/CIPS Level 2 and Level 3 certification courses.

All of the above courses will be followed by a written Work Based Assessment. Assessments are optional for participants but are a requirement to achieve full CIPS accreditation.

All training courses employ modern adult participatory learning methods. Each training module commences with an overview of the rules, procedures and/or theory of the subject in question, and is then followed by case studies, group discussions or exercises. This creates a forum for participants to apply theory and methods to real cases and to foster productive knowledge sharing.

Training courses
---
UNDP offers a variety of specialized procurement training and certification courses focusing on transactional, tactical or strategic aspects of procurement.
Who can participate?
UNDP procurement training courses are open for registration for staff members from:
UN organizations

International Finance Institutions and their borrowers

Inter-governmental organizations

Local and international NGO's

Governments
Locations
Courses are offered on recurrent basis at the following venues:
Suva (Fiji)

Kuala Lumpur (Malaysia)

Bangkok (Thailand)

New Delhi (India)

Dubai (UAE)

Istanbul (Turkey)

Nairobi (Kenya)

Abuja (Nigeria)

Johannesburg (South Africa)

Rome (Italy)

Vienna (Austria)

Geneva (Switzerland)

Copenhagen (Denmark)

Madrid (Spain)

New York (USA)

Whashington DC (USA)

Panama City (Panama)

Brasilia (Brasil)
► Click here to register for a course.
What are the courses?
Title
Participants will gain:

Introductory Certificate in Public Procurement - CIPS Accredited Level 2

A CIPS recognised and accredited exit award.

A clear understanding of the principles of effective public procurement, the generic procurement process and the role of corporate and transactional procurement.

Advanced Certificate in Public Procurement – CIPS Accredited Level 3

A CIPS recognized and accredited exit award.

A clear understanding of advanced procurement planning processes, communication and negotiations skills required by those involved in advanced level procurement, and advanced contract management skills necessary for contract development, bid evaluation and contract administration.

Strategic Diploma in Public Procurement – CIPS Accredited Level 4

A CIPS recognized and accredited exit award.

A clear understanding of strategy development activities, strategic negotiation skills, and a systematic development of capacities to manage strategic supply, services, and consultancy contracts required at strategic level procurement.

A clear understanding of corporate procurement strategy development and tools to implement strategies in procurement functions and business units.

Tools to implement procurement strategies aligned to the procurement spend and risk profile of the organization, with a strong focus on high risk/high spending accounts. Real cases and exercises will teach participants how to analyze, design, implement and monitor effective procurement strategies.

A clear understanding of, and appropriate use of, various supplier relationship styles, taking account of legal, ethical and relational issues.

The participants learn how supplier and contract management contributes to effective quality and performance monitoring and evaluation.

A clear understanding of Risk Management as a tool to manage construction projects to minimise cost overruns, timeliness and scope.

Procurement of high value and/or high risk construction services can be extraordinarily challenging and the course offers practical tools to manage risks and to communicate effectively with stakeholders during planning and implementation of construction projects.

Skills and knowledge on how to prepare themselves for successful negotiations, including developing of win-win strategies based on analysis of the other parties' needs, to learn the principles and dynamics of the negotiation process and how to avoid the common traps in negotiation.

As the course is a mixture of lectures, exercise and role-plays, the participants also get to identify and work on their own strengths and weaknesses in regard to negotiation.
A clear understanding of the principles of effective supply chain mangement arrangements and to understand methods of mitigating risks and to optimize the organisation's supply chain.

The capability to plan, implement and evaluate a logistical exercise appropriate to the value/risk of the goods being transported, understand the obligations of the buyer and seller, and select appropriate Incoterms 2010/2011.

A thorough understanding of the procurement policies, principles and procedures that govern the hiring/recruitment and management of Individual Consultants/Contracts (IC's) and Consultancy Firms in UNDP.

Incoterms 2010 - How to use International Commercial Terms in Procurement

The capability to plan, implement and evaluate a logical exercise and select International Commercial Terms appropriate to the value/risk of the goods being procured and transported.

The capability to identify the optimal approach to handling procurement activites in the context of project implementation and deliver significant value to programmatic outcomes and delivery.

Knowledge of immediate relevance to Programme staff and Managers, including integrated planning, development of specifications & TOR, development of Evaluation criteria, Evaluation of bids and proposals, and contract management.

Certificado Introductorio en Adquisiciones Públicas - Acreditado por el CIPS Nivel 2

Una certificación y acreditación profesional del CIPS.

Una comprensión clara de los principios de las adquisiciones públicas eficaces, del proceso general de adquisiciones y del papel de las adquisiciones institucionales y transaccionales.

Introduction to Sustainable Public Procurement

A clear understanding of how to start, implement or maintain a Sustainable Public Procurement (SSP) programme

The capability to manage all aspects of the procurement process as it relates to SPP

Anti-Corruption and Ethics in Procurement

A clear understanding of how to recognise, reduce and detect corrupt behaviour and conflicts of interest in public procurement, and to increase awareness of the importance of ethical conduct throughout the whole procurement process.
Tailor-Made courses
These courses are designed to meet the specific requirements of your staff and organisation. They are delivered at your preferred time and location, thus a very cost-effective solution if there is a large group of staff to be trained.
A tailor-made course can take several forms:
A training course focusing on the specific situation, challenges and opportunities facing your organisation

Combining modules from our different standard course to meet your unique learning and development requirements

Develop a completely new course to precisely address your development requirements

Cross-cutting issues such as ethics in procurement, environmental and social aspects, procurement planning, procurement strategies, performance measurement and management can be integrated into customized courses.

​
Please contact procurement.training@undp.org for a proposal.
UNDP/CIPS Partnership Recognized as World Leader in Training and Professional Development
---
UNDP is a finalist for the World Procurement Award 2016 for Learning & Development Excellency
UNDP was shortlisted for the respected 2015 Supply Management Award in the category Best Contribution to the Reputation of the Procurement Profession.
UNDP and CIPS has been awarded the prestigious European Supply Chain Excellence Award 2012/2013 in recognition of the joint Procurement Training and Certification Programme and its success in professionalizing the UN and public procurement sector. Winning the Award is a ground –breaking accomplishment and it identifies the UNDP/CIPS Partnership as the standard bearer for procurement training and professional development bearer in the humanitarian sector.